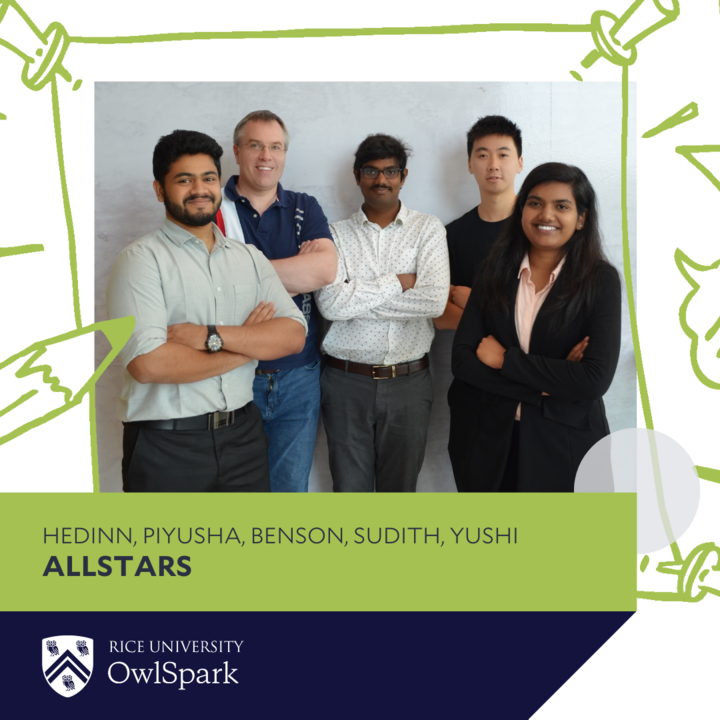 Hedinn, Piyusha, Benson, Sudith, Yushi
AllStars is building an affect sensitive educational tool for self-studying and blended classroom learning.
---
We have been hard at work this summer, and we want to show off our awesome founders! Meet the startups in Class 11 of OwlSpark and Class 2 of BlueLaunch. Our #FounderSpotlightSeries continues with AllStars from Rice University OwlSpark!
Learning needs to be more engaging and personalized. With our artificial intelligence-powered personalized learning platform, we support enjoyable and productive learning experiences.
There is a growing skill/opportunity mismatch in the labor market. We want to contribute to bridging this gap while at the same time enriching the quality of life of adult learners through enjoyable and rewarding learning experiences.
We have enjoyed a great program with a strong focus on customer discovery and evaluation and a hands-on approach with experienced mentors that have been there and done it all! As a team of computer scientists and engineers, we have also broadened our view and understanding of successful goal-oriented product design, that solves a real-world problem that our customers care about!
Get ready to say goodbye to Netflix marathons and hello to course completions!