VCIC (Venture Capital Investment Competition)
From UNC Kenan-Flagler Business School, the Global VCIC is the world's largest venture capital competition among top MBA students from 70+ prestigious business schools. Students attend the competition by competing in one of 12 regional finals held on 3 continents to qualify for the Global VCIC Finals in Chapel Hill, hosted by UNC's Kenan-Flagler Business School. During the competition, students are acting as venture capitalists: evaluating real start-ups, interacting with entrepreneurs and preparing term sheets. In the meanwhile, judges (real venture capitalists!) are assessing the students' performances. Global VCIC is a unique competition as it brings top VCs, prestigious MBAs and promising start-ups together!
Represent Rice at the VCIC - Central Competition
A team from Rice Business competes each year at a VCIC Regional Competition. In 2024, the Rice Business team will compete at the Central Regional competition on February 16 at the University of Texas in Austin. The Rice MBA team is selected through the Entrepreneurship and PR/VC Clubs at Rice Business and then mentored and prepared by Rice Alliance and its mentors, investors, and affiliated entrepreneurs.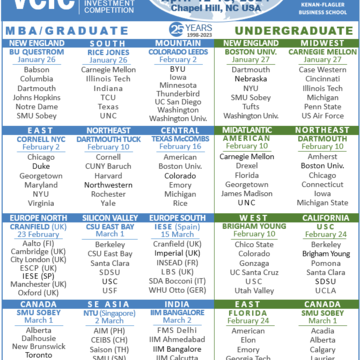 2024 MBA South Regional Finals - Friday, January 26
Hosted in Houston, Texas, at the Jones School of Business at Rice University.
Rice is one of seven universities that hosts regional competitions. The Rice Alliance hosts the South Regional VCIC Competition at Rice Business – the Jones Graduate School of Business. The winner of the Rice competition and the other regionals advance to compete in the Global Finals at UNC in April.