VCIC (Venture Capital Investment Competition)
From UNC Kenan-Flagler Business School, the Global VCIC is the world's largest venture capital competition among top MBA students from 70+ prestigious business schools. Students attend the competition by competing in one of 12 regional finals held on 3 continents to qualify for the Global VCIC Finals in Chapel Hill, hosted by UNC's Kenan-Flagler Business School. During the competition, students are acting as venture capitalists: evaluating real start-ups, interacting with entrepreneurs and preparing term sheets. In the meanwhile, judges (real venture capitalists!) are assessing the students' performances. Global VCIC is a unique competition as it brings top VCs, prestigious MBAs and promising start-ups together!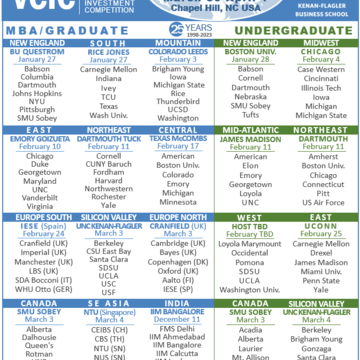 2023 MBA South Regional Finals - Friday, January 27
Hosted in Houston, Texas, at the Jones School of Business at Rice University.