Looking for a way to stay engaged with a community of innovators and support the growth of up-and-coming entrepreneurs and founders? This Rice Alliance membership provides you access to exciting new business, while helping fuel the Rice Alliance and our impact on entrepreneurs in Houston and Texas and around the U.S. As a catalyst for entrepreneurship at Rice University and beyond, Rice Alliance has supported more than 3,165 startups who have raised $23.6B in funding.
Events include:
Energy Venture Day, during the week of CERA Week, March 7, 2023 @ Rice University
Rice Business Plan Competition, May 11-13, 2023 (On campus event only)
Bayou Startup Showcase, August 2, 2023
20th Annual Rice Alliance Energy Tech Venture Forum, September 21, 2023
Rice Alliance Clean Energy Accelerator Demo Day, September 21, 2023
12th Annual Texas Life Science Forum, November 7, 2023 (discounted)
We also plan to throw a members happy hour for networking in October of this year!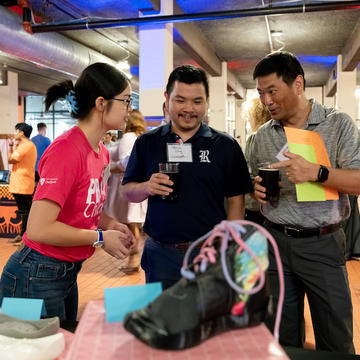 Benefits of a Rice Alliance Membership
Membership more than pays for itself. Members receive free or discounted admission to our flagship events (Forum admission is usually $175 to $250). These events are designed to effectively build networks, raise awareness for new startups and tech and drive action toward commercializing and growing solutions to our world's most pressing challenges.
Your contribution supports all of our programs, many of which impact the early-stage ideas of leading researchers and student entrepreneurs at Rice University. To learn more about our programs, check them out here.
BECOME A MEMBER TODAY
Membership for the 2023 year will run from January 1, 2023, through December 31, 2023.
An Individual Membership to the Rice Alliance costs $350. This is ideal for an individual who would like to attend more than one of our events.
A Company Membership will range from $600 - $900 depending on the number of employees in your company. This membership is ideal for companies who would like to send multiple employees to our various forums and events. The level you choose will depend on the number of employees in your organization. (Level 1 for 1-30 employees with $600 annual dues, includes 2 guest passes for each event, or Level 2 for 31+ employees with $900 annual dues, includes 3 guest passes for each event).
Check out the member directory
Members come from corporations, startups and everywhere in between—our members are looking to engage with and support the innovation community.
The Rice Alliance was the pioneer of the Houston entrepreneurial ecosystem and continues to be a leader. Its business plan competition arose from being a small, local event to the largest and richest business plan competition in the world. Within a short period of time, the Rice Alliance morphed this competition from a massive in-person event into an exceptionally well-managed virtual event.
Being a Rice Alliance member is a fantastic way to stay connected and engaged with not only the Rice community, but also entrepreneurs, investors, and business leaders. With Covid-19 creating a challenging environment for everyone, the Rice Alliance continues to adapt and shine by making their events virtual yet still engaging for the audience. I've always appreciated being a member since I joined years ago, but to see the Rice Alliance team overcome the challenges this year has been most impressive!
Sign up to learn about the Rice Alliance Programs and Events