Ignite Entrepreneurship Trek to Silicon Valley
The Ignite Trek provides entrepreneurial students with a chance to meet some of the most successful and up-and-coming entrepreneurs in Silicon Valley. Students will hear the personal stories of entrepreneurs working to build their companies and learn from the successes (and failures) of the best-and-brightest that Silicon Valley has to offer. This is an intense immersion experience with company visits and entrepreneurial speakers throughout the trek. Previous site visits include Tesla, Mitra Chem, Lyft, and Benchmark Capital.
"A first-person perspective into the minds and personalities of the most successful people and companies in Silicon Valley."
"Hands down, the most valuable experience of my graduate schooling!"
"A whole year's worth of business school in 3 days, told through the lens of entrepreneurs and VCs. Tremendous!"
"A PhD in entrepreneurship in 3 days flat!"
"Unparalleled education and experiential entrepreneurial weekend."
"The best networking, friend-making, eye-opening, thought inspiring experience I've had so far EVER."
Meet successful & up-and-coming entrepreneurs and visit startups, high-tech companies and venture capital firms in Silicon Valley!
The 2023 Ignite Trek participants have been invited for the trip on March 8 - 11, 2023.
Ignite Trek 2023 Schedule
| Day | Date | Schedule |
| --- | --- | --- |
| 1 | Wednesday, March 8 | Travel day & opening reception (3:00 PM) |
| 2 | Thursday, March 9 | Field trips to Silicon Valley startups / high-tech firms / VC firms |
| 3 | Friday, March 10 | Entrepreneurial guest speakers |
| 4 | Saturday, March 11 | Entrepreneurial guest speakers and closing dinner |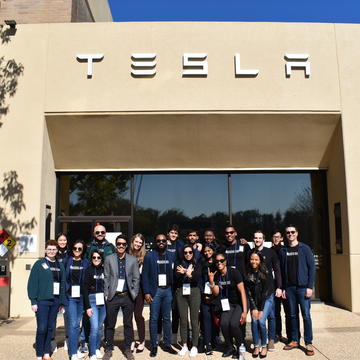 What to know about the Ignite Trek
Eligibility: You may participate and apply for the Ignite trek if you are a Rice Business MBA graduate student, a Rice engineering graduate student (PhD or Masters candidate), or a Rice natural science student (PhD or Masters candidate).
Credit: Students who successfully attend the Ignite Trek will be offered a Certificate of Completion (if desired). The program is no longer being offered as an MBA for-credit course.
Cost: Lodging costs in the Bay area (4 nights, double occupancy), bus transportation to company visits, and most meals during the trip will be paid for by our sponsors. Students are responsible for transportation costs from Houston to San Francisco to the main program site (i.e., taxi/Uber to/from the airport to host venue and airfare), although the Office of Innovation may provide travel stipends for engineering and natural science graduate students.
Note: Students accepted into the Ignite program are required to attend all trek sessions, events, and activities, starting with the Opening Reception on Wednesday, March 8, 2023, at 3:00 PM and ending with the Closing Dinner on Saturday, March 11, 2023. You should plan to fly home no earlier than Sunday, March 12, 2023. Lodging will be provided for 4 nights (Wednesday night through Saturday night), and students must stay at the host venue. Students are welcome to extend their stay in the Bay area at their own expense.
While the Ignite Trek is not a recruiting trip, you might meet companies or make connections that could benefit you through introductions and networking.
If you have any questions, please contact Cheyenna Mitchell at cmitchell@rice.edu.
Last week's trek to Silicon Valley was the cherry on top of my entrepreneurship education at Rice Business - Jones Graduate School of Business. Grateful to the team at Rice Alliance for Technology and Entrepreneurship for creating the opportunity for 60 MBA, masters, and PhD students to hear directly from top CEO-founders. Can't wait to see the ventures my classmates will launch in the years to come.

Megan

Ignite Trek 2022 Participant