Peter Rodriguez
Dean, Jones Graduate School of Business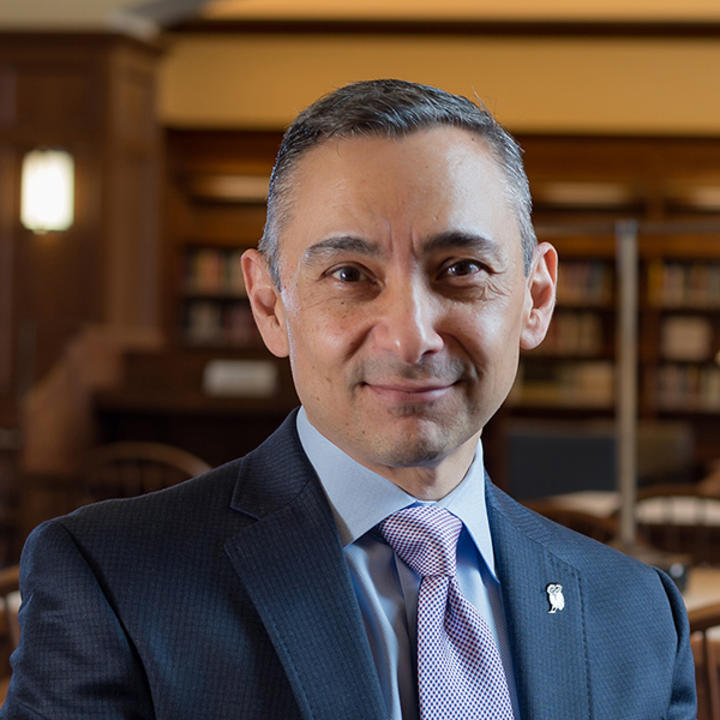 Peter Rodriguez has been dean of the Jesse H. Jones Graduate School of Business at Rice University since 2016. During that time, he has doubled MBA enrollment, grown the tenure-track faculty by more than 35%, introduced the first online graduate degree at Rice, launched the undergraduate business major, renovated McNair Hall, including a new public art project, and helped the Rice Business community survive Hurricane Harvey and grow stronger during COVID-19.

His tenure as dean has also ushered in a new Office of Diversity, Equity and Inclusion, a relationship with The Consortium for Graduate Studies in Management and a rise in underrepresented minority students. He established an operations faculty group, lead the successful and growing entrepreneurship initiatives at Rice, and built into the curriculum a global field experience for every student.

An economist and professor of strategic management, Peter also teaches MBA classes on leadership and has instilled the core values of being attentive, responsive, and kind as central to the culture of Rice Business.

He is presently serving a three-year term on The Federal Reserve Bank of Dallas, Houston Branch board of directors, providing input on regional economic conditions as part of its monetary policy functions. He is also a board member for three nonprofit organizations: Good Reason Houston, Strake Jesuit College Preparatory, and Texas 2036.

A recipient of numerous teaching awards from Princeton, Texas A&M and the University of Virginia, Peter holds an M.A. and Ph.D. in economics from Princeton University and a B.S. in economics from Texas A&M University. He came to Rice from the University of Virginia's Darden School of Business where he was a professor, senior associate dean for MBA Programs and chief diversity officer. His research interests include corruption, globalization, economic development, and social institutions. He worked for several years as an associate in the Global Energy Group at JP Morgan Chase.

A Texas native, Peter and his wife Kathleen have three children, Gabriella, Sam, and Michael. You can follow him on Instagram and Twitter.