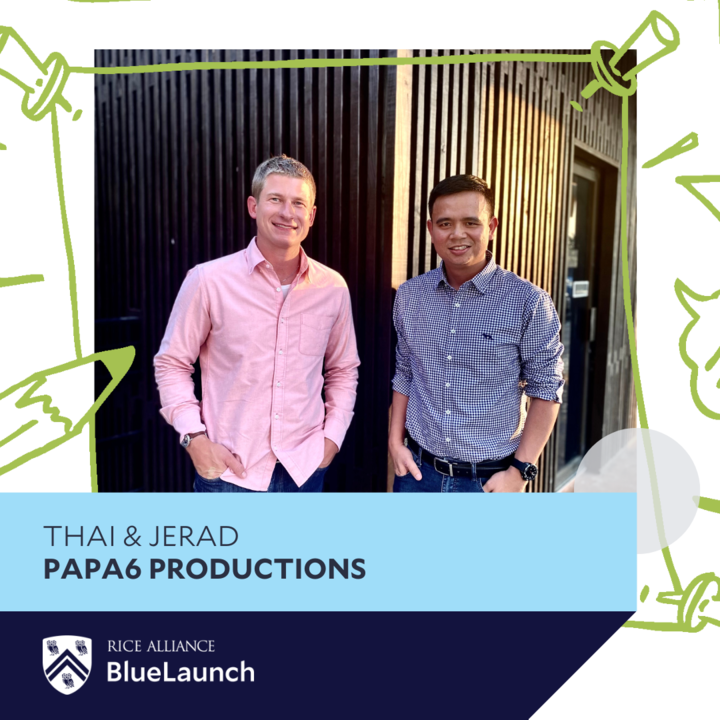 Thai, Jerad
Papa6 Productions customizes, designs and sells powder-coated and galvanized fence panels, posts and accessories.
---
We have been hard at work this summer, and we want to show off our awesome founders! Meet the startups in Class 11 of OwlSpark and Class 2 of BlueLaunch. Our #FounderSpotlightSeries continues with Papa6 Productions from Rice University BlueLaunch!
Providing end-to-end supply chain & logistics products & services including Sourcing, Manufacturing, Quality Control, Logistics, and Distribution for Commercial General Contractors in the construction industry. This enables them to focus on their core business activities while working with a trusted partner to provide them with quality products at a competitive price.
We formed the business after recognizing the opportunity to provide value-added products and services to a wider range of commercial general contractors outside of the one customer we were supporting at the time. Our core product line at the beginning was commercial ornamental steel fencing but we have since started expanding into other complementary metal products to offer a wider range of product lines that our customers are already buying.
This program has enabled us to put structure around the business, narrow in on our target customers, and define our value proposition to those customers. In addition, the faculty, founders, and mentors that are part of the Blue Launch program have been invaluable to growing our network and gaining insights & perspective to take our business to the next level.
The name of our business "Papa6 Productions" is based on the military term "Papa" and the "6" represents the 6 P's - Prior Proper Planning Prevents Poor Performance